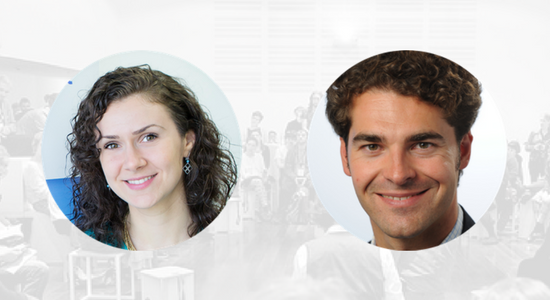 Over the last week, members of European Alternatives were called to vote for the election of two new members to the transnational board. The transnational board is composed of a maximum of 8 members, with 4 elected by members of European Alternatives, and up to 4 co-opted by the board itself to build relationships with member organisations or to bring additional capacities to the organisation. Meet the two freshly elected board members below!
---
Suzana Carp and Alberto Alemanno, new members of the Board
Suzana Carp and Alberto Alemanno are joining the transnational Board of European Alternatives. Congratulations! The new board of European Alternatives, currently composed of 7 members, will meet in the winter this year.
Suzana lives in Brussels where she leads on the EU engagement work of a London based climate policy think tank Sandbag. She worked on a number of migration related projects, including working on a project investigating migration in the media across different countries, completing a comprehensive study of refugee support across the EU, etc. She founded the project Act 4 Democracy, which strives to offer education for democracy through theatre to youth from underprivileged backgrounds and remote areas. Get to know her by watching her video statement.
Alberto is an academic, civic advocate and public interest lawyer. He's Jean Monnet Professor of EU Law at HEC Paris and Global Professor of Law at New York University School of Law. He runs The Good Lobby, the first advocacy skill-sharing community aimed at connecting people with expertise with CSOs who need them in pursuit of the public interest. His last book, 'Lobbying for Change: Find Your Voice to Create a Better Society' provides analysis and guidance to empower citizens to speak up and inform policy decisions from the local to the international level. Get to know him by watching his video statement.