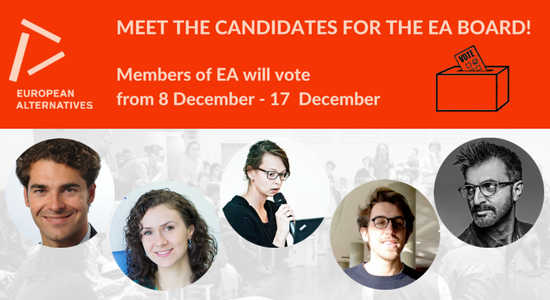 European Alternatives presents the 5 candidates who have applied to join the transnational board. On October 29th, the current board members Catherine Fieschi, Srecko Horvat and Tony Venables have stood down from the board after a two-year term.
The transnational board is composed of a maximum of 8 members, with 4 elected by members of European Alternatives, and up to 4 co-opted by the board itself to build relationships with member organisations or to bring additional capacities to the organisation. New elections ​are called every year to renew 2 board positions, for a 2-year term.
Members of European Alternatives will vote from Friday December 8th, from 10am to Sunday, December 17th, midnight to elect the two new board members. The voting will be online, password protected and anonymous. You can ask any questions directly to the candidates this week before and during the voting on our Facebook page or by sending an e-mail to Martin, m.pairet@euroalter.com, who will forward them.
CANDIDATES FOR THE BOARD
---
SUZANA CARP
Suzana lives in Brussels where she leads on the EU engagement work of a London based climate policy think tank Sandbag. She holds an MSc in Migration Studies from the University of Oxford, awarded with Distinctions, a second Masters degree in European Studies from the College of Europe in Warsaw. She completed her University degree in the United States, where she specialised in political science and international affairs.
She worked on a number of migration related projects, including working on a project investigating migration in the media across different countries, completing a comprehensive study of refugee support across the EU, etc. Her interests cover also democratic theory, having founded the project Act 4 Democracy, which strives to offer education for democracy through theatre to youth from underprivileged backgrounds and remote areas.
---
ANDREJ BERETA
Andrej Bereta is a curator, art historian and cultural entrepreneur. He is the Co-founder of ARTIKAL, Belgrade, since 2008. Since 2011 he is investing his strengths on the Project About and around curating/Kustosiranje (co-author with Srdjan Tunic), an educative and research curatorial project, based on the idea of lifelong learning, designed for professionals and students from the fields of arts and culture and open for general public. The mission of the project includes: developing toolbox and required skills, working on curatorial practices and on the technologies of preparation and realisation of independent exhibition project, education and supporting proactive attitude of young and future art curators, team work, developing entrepreneurship in the field of culture, spreading share culture. Developed as a public program, it is strongly oriented on regional cooperation. This is an academic course for master studies at University of Belgrade in partnership with University of Vilnius and in cooperation with European Universities.
Since 2014 he is curator of Arts Kozara: international AiR, Art Laboratory in nature on mountain Kozara (BiH). In 2013 he was the director (with Srdjan Tunic) of Mikser Festival 2013 for Visual arts. In 2008 he co-created the Project ARTUR- Cultural tour for disabled persons. Andrej is co-creator and participant of Creative Mentorship. Finally, he is a lecturer on Visual Arts at Independent University of Banja Luka (BiH).
---
ALBERTO ALEMANNO
Alberto Alemanno is an academic, civic advocate and public interest lawyer. He's Jean Monnet Professor of EU Law at HEC Paris and Global Professor of Law at New York University School of Law. Due to his commitment to bridge the gap between academic research and policy action, Alberto pioneered innovative forms of civic engagement over the last decade and championed pro bono services. Both his scholarship and public interest work on openness, transparency and civic engagement has considerably shaped EU institutional setting and practice. His free-access MOOC Understanding Europe: Why It Matters and What It Can Offer You reached and empowered more than 200,000 participants across the EU and beyond. The EU Public Interest Clinic, which he runs from Paris, trained hundreds of public interest lawyers and served dozens of NGOs promoting the EU public interest. Today Alberto runs The Good Lobby, the first advocacy skill-sharing community aimed at connecting people with expertise with civil society organizations who need them in pursuit of the public interest and training campaigners all across Europe through free workshops.
Alberto is a regular contributor to Le Monde, Politico Europe, and Bloomberg, and his scholarly and public interest work has been featured in The New York Times, The Economist, Science, and the Financial Times. His last book, 'Lobbying for Change: Find Your Voice to Create a Better Society' (Iconbooks, 2017), provides a timely analysis and guide to levelling the democratic playing field by empowering ordinary citizens to speak up and inform policy decisions at local, national and international level.
---
ESTELLE NABEYRAT

Estelle is a German French curator and art critic mostly based between Paris and Lisbon. She curated several exhibitions projects at Neuer Aachner Kunstverein, Museu da Répùblicà in Rio de Janeiro, at galerie Emmanuel Hervé (Paris), Espace Khiasma (les Lilas), Scaramouche Gallery NY, Palais de Tokyo (Paris) and many more. She worked at the Bildende Kunst Akademie in Vienna as assistant of Ute Meta Bauer and then then joined the School of Fine arts Lyon (ENSBA) School of Art & design Reims (Esad) and at the Art center Le Magasin as Head of the curatorial program. She also worked for Performa Biennal NYC (2015), Orange Rouge (2013-14) and is now assisting artist Pier Paolo Calzolari. In 2009, she received a fellowship from the Museum of Fine Arts in Houston before being hosted as curator-in-residency at Palais de Tokyo (2010-11) and Capacete Brazil (2011).
In 2012, she received a fellowship by the Cnap for a research on anthropophagia. She also worked on historial re-enactment in contemporary art (to be published at PUR), history and forms of violence in a decolonizing perspective. Related to that, she has been working on a documentation project around the work of independentist journalist Henri Alleg during the algerian war. Her texts have been published in several reviews and newspapers (South as a mind, L'art même, Zérodeux, Kaleidoscope, La belle revue…) and catalogues. She co-directed the book Réalité du commissariat at beaux arts de Paris publisher. She runs in Lisbon a project called πνεῦμα (#pneumalisboa).
---
MATTEO BINCI

Matteo is studying Visual Cultures and Curatorial Studies at Accademia di Brera in Milan. He has been an activist of NoGrandiNavi, an environmental movement fighting against big ships in Venice lagoon and a member of S.a.L.E. Docks in Venice, a space for reflection and political action within contemporary art. He is also writing for Metalocus, Operaviva Magazine, Segno, Nuova Meta and other art magazines, interviewing artists about art,
economics, digital and politics.
He is very interested in how art could become a self-representation and emancipation tool both for movements and individual. Could Art be an antagonistic force for the investigation of economic and political contradiction in our society. He also focuses on digital activism and the way it could help new forms of coalitions and mutual aid. The web is not even more an horizontal and free utopia but it is a realm of some corporations and mass surveillance. For these reasons, he believes we need to imagine new forms of digital awareness and that we have to think about which is the role of images, considering their message and impact.