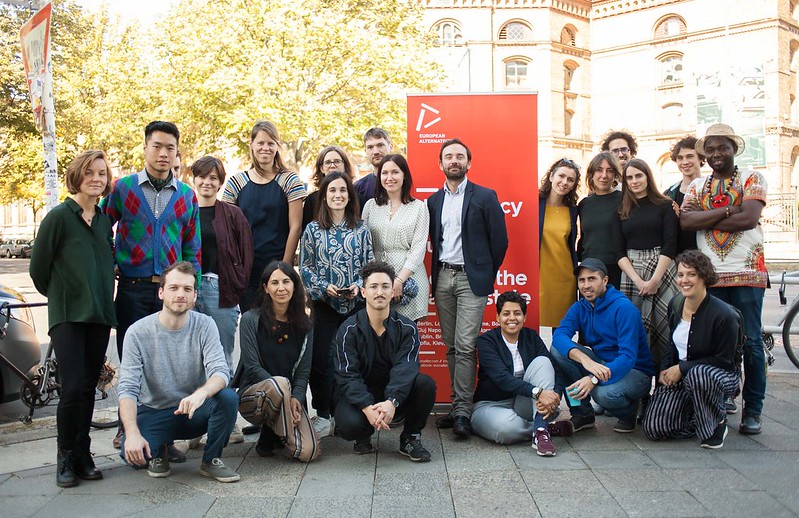 European Alternatives is opening two new seats on its transnational board and is looking for dedicated candidates that will be elected by our members online in the second half of November 2020. 
These two new board members will be elected for a two-year term (renewable). The board of European Alternatives is made up of a mix of directly elected members and co-opted members to bring skills, capacities and strategic partnerships to the organisation.
The roles of the board members are:
To attend three to four meetings each year, and to dedicate an hour or two each week to European Alternatives keeping themselves up to date on activities and contributing to ongoing work
To guide the strategy of European Alternatives ensuring it continues to work towards more democracy, equality and culture beyond the nation state
To establish and maintain key partnerships and alliances, including fundraising
To speak or write on behalf of the organisation
To guarantee the legal compliance of European Alternatives and responsible use of funds and the accountability and good governance of the organisation
Online applications should be submitted no later than Sunday, November 15th, at midnight (CET) by sending an e-mail to m.pairet@euroalter.com and include:
A short video or audio presentation (maximum of 3 minutes, ideally through a WeTransfer, Dropbox or other application of your choice), stating your experience, addressing members of European Alternatives and indicating the areas in which you would particularly like to contribute to the work of the Board. You are welcome to also express your views on current positions of European Alternatives and on the work program for the coming year.
The endorsement (a couple of sentences), in writing, by 2 members (incl. staff and board) or partners of European Alternatives, directly addressed to m.pairet@euroalter.com  
A photo (separate .jpg file)
In addition, all candidates should have paid their membership fee for the year 2020 (min. 5€/month or 60€/year). If you want to apply and haven't yet paid your membership fee so, you can make your payment online.
Incomplete applications will not be considered.
The presentation videos will be published on our website and on social media at the start and during the voting period, for members of European Alternatives to get to know the candidates and ask any questions before making their choice. The audios and videos can be deleted on request, after the election has ended.
If you have questions about the board roles and the elections, please contact m.pairet@euroalter.com