Accordingly, European Alternatives does not limit its action to one theme, topic or geographical area but, endeavors to be generalist and transnational.
Working through our various offices, European Alternatives has over the past years developed innovative approaches to promoting European citizenship and fundamental rights by organising citizens' panels, campaigns, festivals, and conferences, by using innovative online methods (multilingual websites, online radio, social networking, online videos,
magazines, web documentaries) and by involving excluded groups in activities with a European focus (migrant groups, local democracy groups, youth groups, artistic organisations).

Measuring the impact of our work and efforts have always been a priority of the organisation. 
By Impact, we mean the effect that our work has on a specific segment in society, but also, how it influences different processes that are in line with our mission and values.
Our impact

at a glance in 2022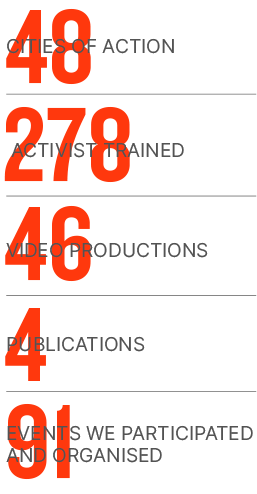 check OUR IMPACT ON OUR
ANNUAL REPORTS