Maastricht
April
29th 2019
Agora Europe Event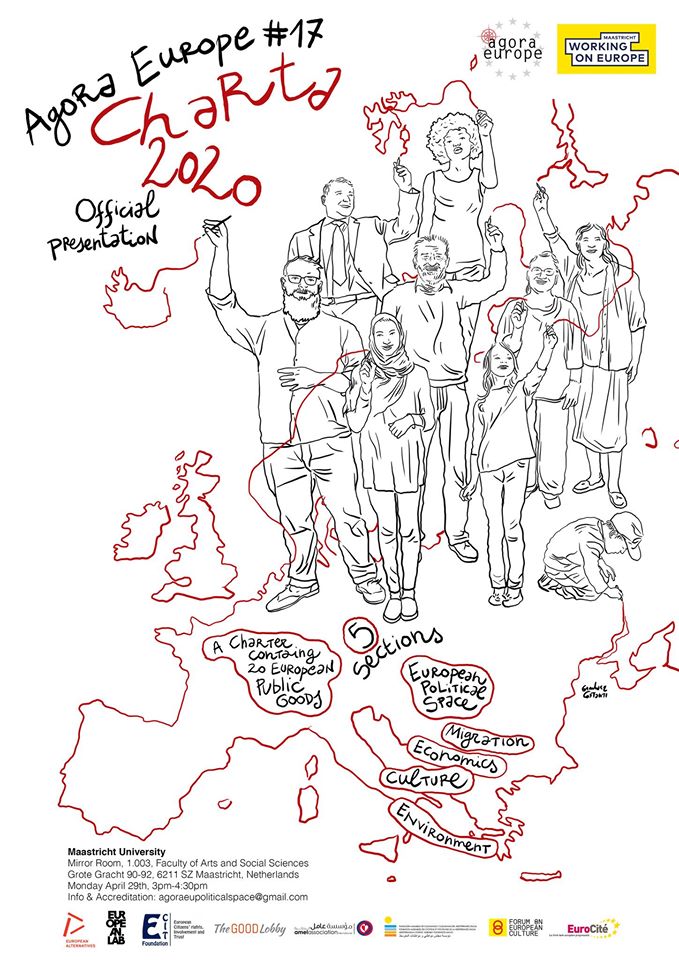 Agora Europe Event
April 29th at 15:00h at Maastricht University Faculty of Arts and Social Sciences Grote Gracht 90-92, 6211 SZ Maastricht, Netherlands
After the presentations at the European Parliament and the Italian Parliament Charta 2020 will be presented by Studio Europa at Maastricht University Faculty of Arts and Social Sciences (Mirror Room, 1.003) on Monday April 29th from 3pm to 4:30 pm by David Adler, Caterina Di Fazio, Catalina Goanta, Kai Heidemann, Petar Markovic, Darian Meacham, John Parkinson, Cristian Surubaru, Miriam Urlings. You will also be able to read #Charta2020 in multiple languages and endorse it at our stand @ the Live Viewing Party of the #maastrichtdebate @ Vrijthof from 5pm to 11pm. Come join us!
Info and accreditation: agoraeupoliticalspace@gmail.com
Charta 2020 is a vision for a democratic and egalitarian European Union and a demand to recognize 20 European public goods that would get us there. Charta 2020 is promoted by Agora Europe and Maastricht Working On Europe and has been collectively written by several international activists and academics.
Do you want Europe to be a better and safer place for all citizens and residents? Are you ready to play a key role in enhancing democracy in the EU? Would you like to join us in actively contributing to shape the European political space of the future? Then take charge yourself! Endorse Charta 2020!
#ShapeYourFuture #DoMore 👉🏾 Endorse #Charta2020
Agora Europe Maastricht Working on Europe