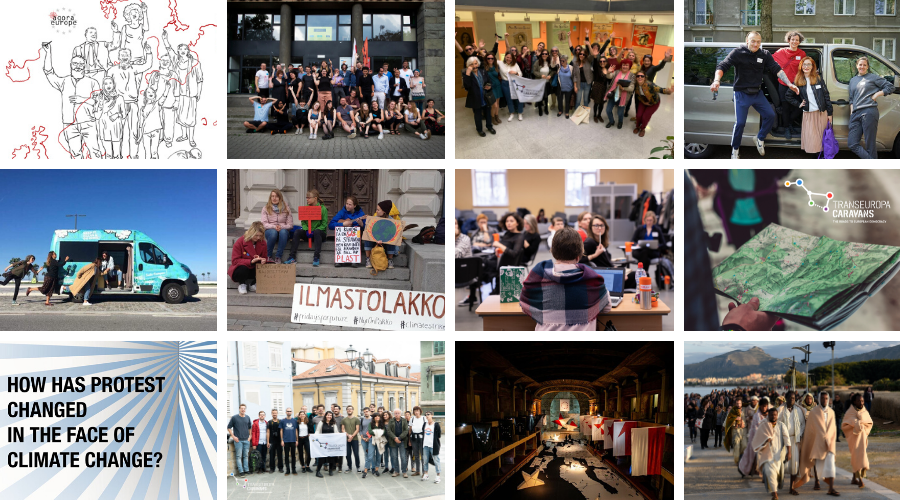 2019 has been one of the most intense and successful years in the history of European Alternatives. Not every year we can say that we have organised 5 days of events in cooperation with an international Biennale in Palermo, set the basis for a new School of Transnational Activism and coordinated the travel of 20 activists across Europe on board of 5 caravans on the year of the European elections.
It is a privilege to work and cooperate with thousands of people engaging in dozens of activities and ambitious projects across countries. European Alternatives is a machine that runs on dreams: the dreams of all those who want to move from a failed democracy, captured by financial interests, to an inclusive, radically democratic Europe able to tackle the climate and social crisis of our century. Thank you for your energy and your support this year!
These have been some of the main outcomes out of this year's efforts:
Transeuropa 2019
In November, European Alternatives was in Palermo to organise and celebrate the 2019 edition of our Transeuropa Festival entitled ÜberMauer – Oltremuro – Beyond the Wall. Hundreds of people from Palermo and across the globe came together on the occasion of the 30th anniversary of the fall of the Berlin wall with a message of open borders, freedom of movement and exchange of cultures.
Transeuropa Caravans
In May, with the motto "Connecting struggles, building alternatives", a group of young activists travelled throughout 12 European countries on board of four caravans. They reached out in places of struggle and resistance to promote and defend our social and political rights. Their actions helped to emphasize that politics don't begin and end at the ballot box but happen every day, in our neighborhoods, our workplaces, our cultural centers and in the streets. It is our task to engage together with communities to act to change the social realities that surround us.
School of Transnational Activism
Climate activism, Fridays for Future, the organised riders, the feminist movement and an extensive network of NGOs have all contributed to the new wave of transnational movements that have been shaking Europe in 2019. European Alternatives opened this summer, the doors of the School of Transnational Activism. The aim is to organise the exchange of knowledge and tools amongst a new generation of activists to learn from past and contemporary challenges and to better organize transnationally. For 2020, we want to continue working with citizens, activists and organised civil society that is shaping the social and political agenda for Europe.
Books, journals, and magazines
On the first day of the European Parliament elections, in collaboration with the London School of Economics, we published a guide to the European Party manifestos. The dawn of a Europe of many visions is a report mapping the different European Parliamentary election programs of the major European political families that were competing in the vote.
This year we have also published the German edition of Citizens of Nowhere (Marsili, Milanese) by Suhrkamp titled 'Wir heimatlosen Weltbürger', and a book on art and feminism in cooperation with the Visual Research and Culture Centre, The Right to Truth: Conversations on art and feminism.
Urban Alternatives
In 2019 we also launched Urban Alternatives, an online map that has emerged from the cooperation between independent activists, researchers, and a number of different organizations, including European Alternatives, Transnational Institute, Habitat International Coalition and the University of Sheffield's Urban Institute. The map is still ongoing and open for new content, so if you know about initiatives that should be added, do not hesitate to contact us.
For the new year, more than ever, we need the support of everyone to be more independent and create new opportunities for members and partners alike. That is why we need you to give as little as 5€/month to help us continue to fight for democracy beyond borders.