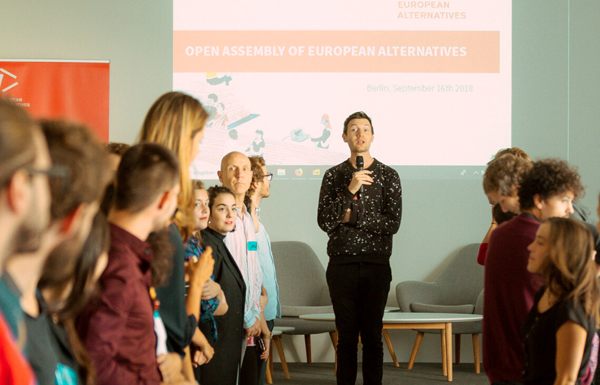 European Alternatives is implementing the project "Assemblies of Solidarity" which consists of a series of citizens-led engagement moments and events aiming at connecting groups that are disproportionately affected by Covid-19. The assemblies are participatory moments co-created and co-organised by citizens to raise awareness on key topics related to:
Democracy and fundamental rights 

Social Europe and Health 

Environment and climate change 
Our projects are carried out across Europe often in partnership with other organisations and our members in Europe and the rest of the world.
To support our team, we are looking for an Intern for 3 months to further develop these Assemblies of Solidarity. Tasks include: 
Video editing of training sessions recorded online 

Developing simple graphic designs on Canva, respecting the branding guidelines of the organisation  

Social media management: Instagram, Facebook, Twitter. Posting daily on these channels, following a timeline that you have developed yourself 

Updating the website on occasion 

Recording interviews online with social democracy experts 

Supporting the team in daily tasks 
HOW TO APPLY?
Please send us in one single document a CV and a one page maximum motivation letter to o.masson@euroalter.com using the heading: Intern Summer 2021. 
Deadline for applications: Sunday, June 6th at midnight.
Interviews will be conducted online in the following week. 
This internship is remote (you can work from anywhere you want).
The internship contract will be registered in France and has to be in the scope of your studies. 
WE ARE LOOKING FOR YOU IF YOU:
are fluent in English (working proficiency) 

are comfortable using social media 

can do video editing OR willing to learn 

are a strong team player and creative communicator who takes initiative and wants to bring in new ideas 

always wanted to know how European-wide civil society networks and movements operate and what activism across borders looks like 

have a strong interest for engaging new and young audiences from diverse backgrounds 

want to stand up against discriminations of all forms and share our belief of democracy, equality and culture across borders 
It is a big plus if you have some experience in one or more of the following areas: project management, event organisation, journalism, social media and website management 
WHAT YOU WILL GET: 
Working with an international team spread around various countries 

Opportunity to learn and improve your technical skills in Digital Communications 

600€ per month 
We are particularly committed to hiring people from racial and ethnic minorities, people from LGBTQI+ communities, people with disabilities and people who identify with disadvantaged economic classes. If you don't identify as one of these groups, we still want you to apply – but if you know of an awesome person who does, encourage them to apply as well!
We look forward to reading your application!