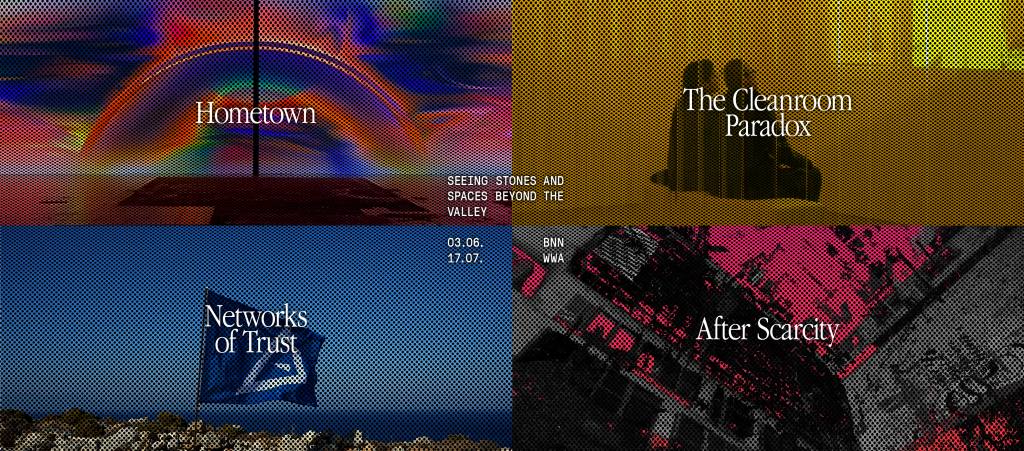 Room to Bloom artists arrive to the new edition of the Warszawa Biennale! Check out the full programme of the Biennale on the

ir new website.
Artists Talks I, Hybrid Event with Ana Maria Millan & Sonya Dyer
The artists' talk will offer the exploration of new ways of visualising the future, that take AI as allies, while being developed in full knowledge of their limitations.
Ana Maria work RolePlay is an interesting association between physical engagement of participants in the long run and digital reality creation within video-games that allow for new forms of visualisation of the future. Ana Maria Millan has worked in several contexts with Rolplay, a very strong method at the basis of the collaborative elaboration of video Games (including with the feminists involved in the peace process in Colombia).
Sonya's work reimagines where the centre is located in fictional narratives of the future. She combines revisits Ancient myths with speculative world building through the lens of science fiction. Hailing Frequencies Open (HFO), her current body of work, combines social justice with speculation, fantasy with the political.
The artist talk shall address issues such as speculative fictions, mythologies, world building, Black female subjectivities as well as the actual liberatory potential of tech and its limitation and biases.
Artists Talks II, Hybrid Event with Niki Analyti (Future Proofing), Elly Cho, Nadja Verena Marcin (SophyGray): Room to Bloom artists have been selected to participate in the new edition of the Warszawa Biennale.
The Biennial reflects and builds on the possibilities and risks associated with the development of the virtual world. Discover three artists from New York/Berlin, Greece and South Korea who explore notions of future, memory and patriarchalism and develop new narratives.
The feminist audio bot #SOPHYGRAY (2021-2023) was created in response to compliant digital service assistants like Alexa and Siri with ground-breaking excerpts from bell hooks, Donna Haraway, Silvia Federici, Audre Lorde, and Anna Lowenhaupt-Tsing (+) that amusingly refute gendered expectations. As ways of working are currently re-evaluated around the world, this work critically and humorously examines the ideological implications of female voices in VA technology. Symbolically, "Sophy" asks, "What would it look like to rewire the modus operandi of service apps?"
Elly Cho will introduce the Mimesis Rapture: fake machine is an online interactive art exhibition, which depicts the extinction crisis caused by climate change. Reflecting on the risks associated with the development of the virtual world, as a practical experimentation & gesture. The project is an attempt to use human agents as a tool to engage the public using fake facial recognition systems.
In a practical experimentation & gesture, RoomToBloom invites the audience of Biennale Warszawa to engage in a hybrid onsite + virtual exercise. Three of the artists of the RoomtoBloom Network will present their work. The audience will be onsite and online. Participants will be invited to interact with transfeminist virtual cyborg #SophyGray via a downloadable app.
Writing an Anti-manual for Feminist and Decolonial Art & Cultural Management
A 2 hours workshop, in which we invite selected artists and art practitioners to exchange on feminist art management practices and co-write non-guidelines on feminist and art. As part of Room to Bloom a process is ongoing, that builds on the Code of Practice for Feminist Art Institutions created by Tranzit.cz to elaborate a Manifesto + Non-Guide for Decolonial Feminist Art & Cultural Management.
RTB can bring in this process to Warsaw to include within the reflection and writing process Warsaw Based participants, i.e. effectively opening up the Room to Bloom network to Warsaw based people. The results of this workshop will be fully integrated into a year long process leading to the publication of the Manifesto + non-guide.
Workshop led by Ségolène Pruvot and Lena Chen.