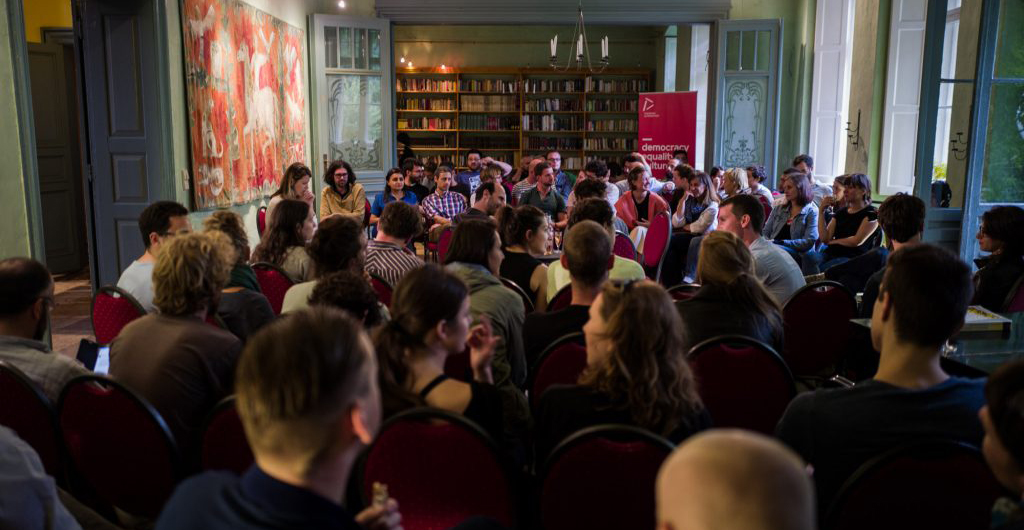 We are recruiting a project coordinator for a 12 months part-time contract (October 2021 – September 2022) in our Berlin Hub to manage projects promoting European solidarity.
European Alternatives (EA) is a citizen-powered civil society organisation imagining, demanding, and enacting democracy, equality and culture beyond the nation state. EA acts in the belief that a transnational renovation of our political imaginations, institutions, citizenship, collectivity, and actions needs to take place. Otherwise, we will not be able to truly understand and address the most urgent political, cultural and social challenges that Europe is facing in our time.
Our upcoming project "Neues Deutschland + Neue Solidarität = Neues Europa?" consists of a series of online workshops, a citizen assembly in Chemnitz, and a one-day conference in Berlin aiming at co-creating spaces for a migrants-led discourse on Germany's responsibilities for Europe and a renewed European citizenship. As a result of this series of events we will produce digital learning material and a mini-exhibition that will be shown in parallel in Berlin and Chemnitz. As the themes of this project overlap with other EA projects your role will also include involvement in our transnational projects "Assemblies of Solidarity", "Trust Beyond Borders" and "Workers Without Borders".
YOUR TASKS AND RESPONSIBILITIES
Doing research work on migration, workers' rights, and transnational activism,

Organising public online and offline events with the EA team,

Developing intersectional civic education methodologies and drafting participatory and deliberative event concepts and timelines in collaboration with external facilitators,

Ensuring video, photo and audio documentation of the events in cooperation with external contractors,

Building and maintaining a network of migrant communities, academics, cultural workers, activists, and civil society actors,

Coordinating the production of digital learning material to be disseminated on social media,

Managing the production process of an exhibition with an exhibition designer,

Assisting in financial management, hiring and coordinating external contractors, and keeping track of reporting obligations as part of the grants, 

Traveling to our events in Poland, Italy and around Germany, as well as

Supporting the administrative, strategic and communications work of EA.
YOUR PROFILE
Creative, collaborative and caring people person with an activist spirit,

Critical awareness of the challenges and discriminations of all forms migrants, workers and activists in Germany and around Europe face in terms of political participation,

Deep knowledge about the history of migrant, exile and diaspora communities in Germany as well as Europe's colonial heritage,

Taking initiative and responsibility when it comes to complex and unconventional projects,

Fluency in German and English (working proficiency), and ideally also another language (Turkish, Arabic, Farsi, Serbian, Croatian, Romanian, Bulgarian, etc.),

Experience in managing projects, events and exhibitions with marginalised and disadvantaged communities, and

Basic skills in social media management (Facebook, Twitter & Instagram).
A big plus would be if you can already draw on a migrant network of organisations, initiatives, movements and civil society actors in Germany and across Europe.
WHAT WE CAN OFFER
We are passionate about fighting for migrants' and workers' rights and a future Europe of solidarity and justice.

The position is part-time, 22 hours a week.

You will be part of an international team spread around various countries in Europe. and you will get opportunities to represent the organisation at public events.

Given current public health conditions, the position would initially be based at home, with a view to office-based work later in the year in Berlin.

Gross salary: 1.800 euros per month.

We want to create a perspective for continued employment if additional funding is raised.
HOW TO APPLY
European Alternatives is an equal opportunities employer. We are particularly encouraging applications from candidates with marginalized backgrounds (class, race, ethnicity, gender, sexuality, religion, disabilities, etc.), education, working and life experiences. If you don't identify as one of these groups, we still want you to apply – but if you know of an awesome person who does, encourage them to apply as well!
Please submit a CV and a short motivation letter in German language to Georg Blokus (berlin@euroalter.com) with the subject "European solidarity".
Deadline for application is 20th September 2021. Interviews will be conducted online. Candidates should be available to start work from October 2021.
We look forward to reading your application!