London
March
11th 2023
LSE CCRG Event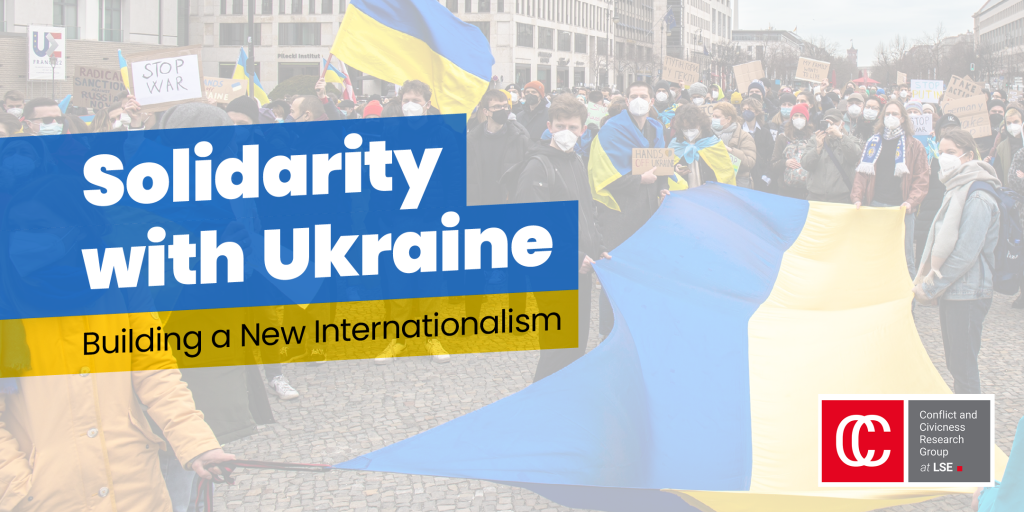 LSE CCRG Event
Join us for a full day event at the London School of Economics.
March 11th at LSE Centre Building (CBG), Houghton Street, London WC2A 2AE
On 11 March, The Conflict and Civicness Research Group at LSE is hosting this one-day conference that aims to blur the lines between academic research and activism in solidarity with Ukraine's resistance to war. European Alternatives is proud to be an organising partner of this event. Register to attend online here. French interpretation will be available online. Click here to register to attend in person.
The Russian war against Ukraine marks a major turning point in 21st century history. It concentrates in a single cataclysm some of the most reactionary forces threatening the future survival of the human species: crony capitalism, authoritarianism, extractivism, patriarchy, ethnonationalism, imperialism and the polluting industries destroying planet Earth.
Ukraine's tremendous resistance to the Russian invasion is first and foremost about the protection of the country's democracy, territorial integrity, political freedom and human rights. But in the context of a 'century of cascading crises', it raises issues and challenges that go far beyond Ukraine – indeed, that are truly global.
By bringing Ukrainian activists and academics into dialogue with other global civil society movements and creating a space for discussion and action, the Solidarity with Ukraine conferences project seeks to make a small contribution to taking this forward.
SPEAKERS INCLUDE
Oleksandra Matviychuk (Centre for Civil Liberties, joint winner of the 2022 Nobel Peace Prize)
Volodymyr Artiukh (Oxford University)
Natalia Lomonosova (CEDOS)
Sharon Weill (The American University in Paris)
Shukria Rezaei (Afghan human rights activist)
Alena Ivanova (Another Europe Is Possible)
Mary Kaldor (LSE)
Taras Fedirko (Glasgow University)
Maliek Banat (LSE Ukraine Society)
Mazen Gharibah (LSE)
Oksana Potapova (LSE)
Nadia Whittome (MP for Nottingham East)
Anna Ackermann (Ecodiya)
Danylo Nikiforov (LSE Ukraine Society)
Anne Le Huérou (Paris Nanterre University)
Yulia Yurchenko (Greenwich University)
John McDonnell MP (MP for Hayes and Harlington)
PRACTICAL INFO
Doors for the Solidarity with Ukraine conference open at 10.00 Saturday 11th March for a 10.30 start
The full programme will be released shortly
FILMS FOR UKRAINE
On the evening of the 10th March, our friends and colleagues at the Kings College London – Films For Ukraine project will show the award winning Ukrainian film, Atlantis (2019). Details of how to sign up will be posted here shortly.
HYBRID EVENT
This is a 'hybrid event' meaning that it will take place in-person and online. Registration for the online component will open two weeks prior to the event. You should only register for a ticket on Eventbrite if you intend to attend in person.
ABOUT THE ORGANISER
Solidarity with Ukraine; Building a New Internationalism has been organised by the Ukraine team of the Conflict and Civicness Research Group (LSE CCRG), a research unit at the LSE exploring the changing nature of war and conflict in the 21st century.
The following organisations have partnered with the LSE CCRG on the conference:
Another Europe Is Possible (UK)
CEDETIM (FR)
Centre for Civil Liberties (UA)
Commons / Spilne (UA)
Democratic Security Institute (Georgia)
European Alternatives (FR, IT, DE)
European Network for Solidarity with Ukraine
Films for Ukraine – Kings College London
Global Justice Now (UK)
Institute for Policy Studies (US)
International Catalan Institute for Peace (ICIP)
London Ukrainian Institute
LSE Ukraine Society
Never Again Association (Poland)
The University of New Europe
Ukrainian Students Union (UK)
Ukraine Solidarity Campaign (UK)