London
June
14th 2015
EA Event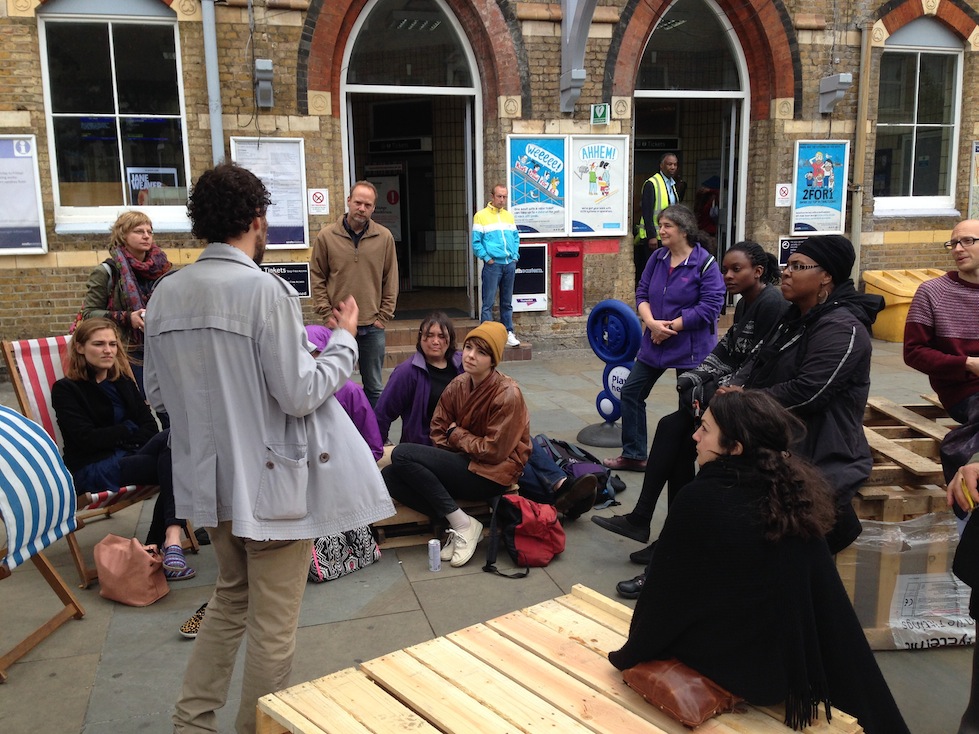 EA Event
June 14th at 11:00h at University College London
Over the weekend of 13-14 June, the Hack (y)our Borders Workshop took place in London. Thanks to the support of the Herne Hill Community Forum, a not-for-profit organisation that runs activities for the Herne Hill community of South London, the workshop was staged in the square just outside the Herne Hill railway station, making it a very public event. Despite the chilly weather, attendance was high with around 50 people taking part. In addition to two participants from Brazil and China who are currently doing mobility activities in London with Transnational Dialogues, around ten more people from Amsterdam, Barcelona, Berlin, Vilnius and Warsaw participated in the workshop.
The aim of the event was to tackle the two main issues addressed by Transnational Dialogues (i.e., unsustainable youth unemployment and youth at risk of social marginalisation): a) through raising awareness of social barriers in the public space of Herne Hill, London, and confronting them with comparable experiences from Brazil, China and other parts of Europe; b) sharing tools and skills in furniture building and design with all the young participants and youth workers who were present over the weekend. A full report on the workshop's activities will follow on the Public Space Makers blog, edited by European Alternatives' board member, Noel Hatch.
The workshop was organised by European Alternatives within the scope of the Transnational Dialogues and Hack (y)our Border projects, in collaboration with radarq and Laimikis, and with the support of the Erasmus+ programme of the European Union and of the Idea Camp programme of the European Cultural Foundation. A talk on artistic interventions in public spaces, featuring two of the workshop participants, Andressa Vianna and Biin Shen, will take place at the Bartlett School of Planning, at the University College London, on Thursday June 18.