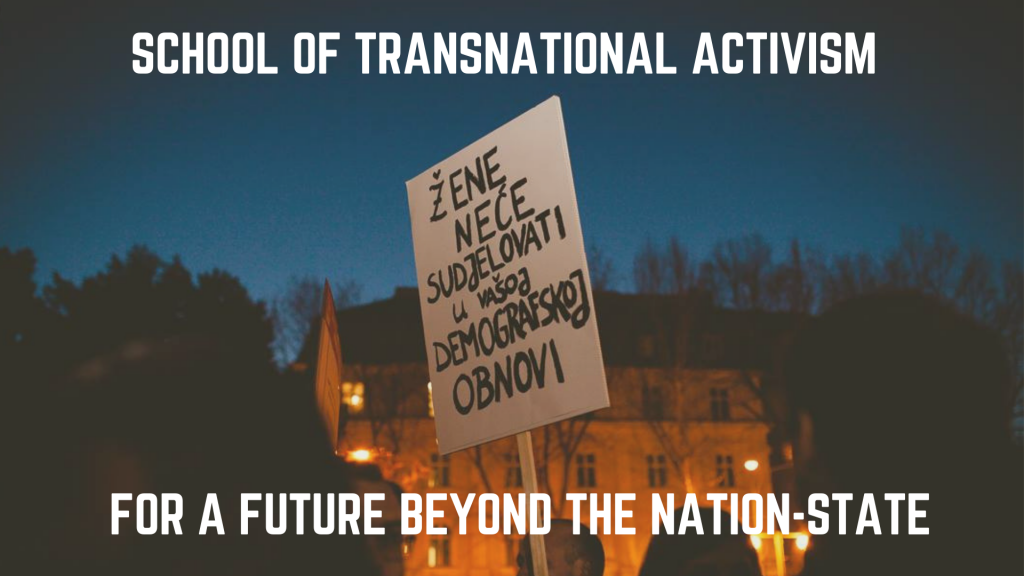 European Alternatives is collaborating with a group of leading thinkers and activists to launch the School of Transnational Activism, a reflective and action-oriented space, gathering participants across disciplines to experiment and explore how to articulate and enact a radically democratic vision of politics beyond the nation-state.

The call for applications is now closed. The website of the School of Transnational Activism will provide you with news, information and resources about the program. Stay tuned and follow our social media!
Debates about populism, the crisis of democracy and the backlash against globalisation are all raging. But very few people seem to be asking two essential groups of questions: in what ways is the nation-state changing and in what ways has it been surpassed? And what are the most effective political forms to find civic agency in this new context?
Nation-states are not disappearing as some globalisation theorists may have suggested in other decades, but neither are they the best political forms for our future. Fearing our collective incapacity to solve global challenges, citizens retract to the known container of the nation-state; but this only makes the problem worse. What comes after nation-states and how do we get there? This is the question the School of Transnational Activism is aiming to answer.
The call for applications is now closed
The Curriculum
The workshops will combine lectures, participatory courses, open spaces and public events. We will mix expert input and theoretical reflection with hands-on experience, peer-to-peer learning and sharing of concrete examples of innovative transnational initiatives. In this first year, we will create together a model for the School that will shape its future! We are organising a series of three workshops for 25 activists aiming to:
Explore and examine the ways in which citizens, social movements, political parties, protest groups, trade unions and others already act beyond borders and foster a new vision of Europe beyond the nation-state;
Build the in-person relationships that can become a community of knowledge and practice articulating and strengthening an ambitious discourse against the failing status quo and nationalist retrenchment;
Communicate the ideas we generate together into articles, podcasts or videos and directly organise a number of public sessions that can engage a wider audience and be presented at the Transeuropa Festival 2019 in Palermo;
The first year courses will take place in various locations. They will be based on a foundational course developed by European Alternatives. The first training will take place on June 20-23th in Warsaw, Poland, the second on September 12-15th, 2019 in Rijeka, Croatia and the third alongside the Transeuropa Festival 2019 on November 7-10th, 2019 in Palermo, Italy.
In between workshops, online sessions will be organised to follow up on the ideas and proposals generated by the participants as well as complimentary webinars for further inspiration.
Attendance at all three workshops is compulsory.
Requirements
Would you like to be part of it? We have a few requirements. You  should be/have:
> Over 18 years old.
> Proficient in English.
> Available on all the dates of the workshops (20-23rd June in Warsaw, 12-15th September in Rijeka and 6-8th November in Palermo).
> Track record of activism in or reflection on key topics such as migrants rights, citizenship, feminism, gender, climate justice, data and digital rights.
> Committed to contribute to the program of the Transeuropa Festival 2019 in Palermo, in forms of presentations, debates, workshops, installations, based on the content co-produced in the workshops.
The course is offered free of charge for selected participants. Travel expenses to and from the training venues are not covered by European Alternatives. Other costs, such as accommodation and food costs will be fully covered. We can offer a limited number of partial or fully funded scholarships for covering travel to and from the workshop venue.
The call for applications is now closed
We are particularly committed to enable the participation of people from ethnic minorities, people of colour, people from LGBTQI+ communities, people with disabilities and people who identify with disadvantaged economic classes. If you don't identify as one of these groups, we still want you to apply – and if you know of an awesome person who does, encourage them to apply as well!
Any questions?
If you have any questions regarding the workshop series and application process, please do not hesitate to contact Martin Pairet, Network and Capacity Building Manager, at m.pairet@euroalter.com
The School of Transnational Activism is co-funded by the Europe for Citizens Programme of the European Union: