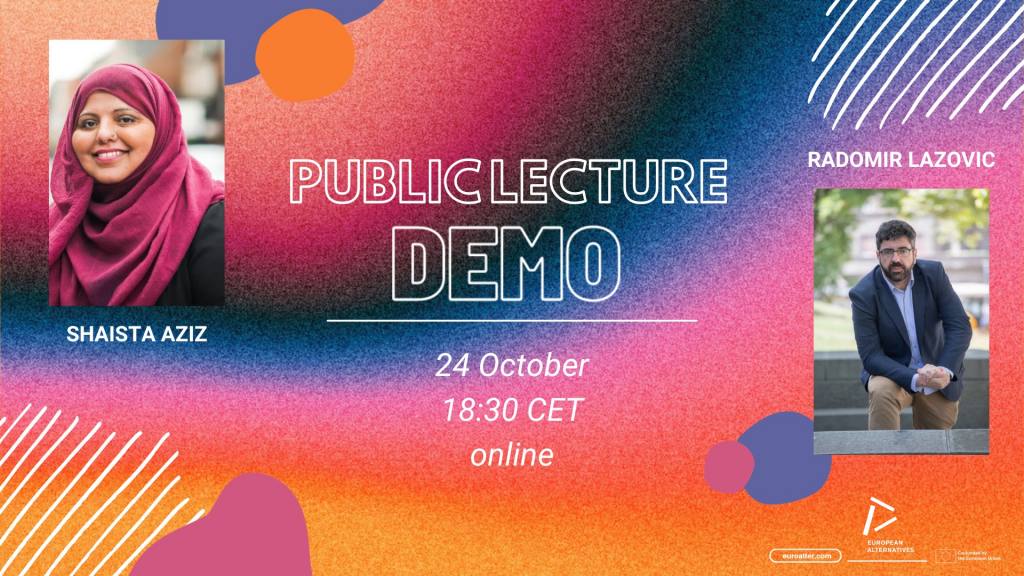 Come and join us for an online open discussion with Shaista Aziz and Radomir Lazovic in Zoom on the 24th of October at 18:30 CET! The speakers will share their experience in fighting discrimination and standing up for dignity in politics.
Please register in advance for this webinar here.
Programme:
18:30 – 18:40 – Presentation of EA, D.E.M.O., the lecture and the participants
18:40 – 19:10 – Shaista Aziz – individual presentation
19:10 – 19:40 – Radomir Lazovic – individual presentation
19:40 – 20:20 – Discussion with both speakers
20:20 – onwards – time for Q & A from the audience
Shaista Aziz is an award winning national anti-racism and equalities campaigner, a journalist, writer and co-Director of the Three Hijabis. Shaista is a highly skilled and experienced communications and media specialist, working in crisis communications and in complex emergencies. She is a high profile campaigner and skilled political analyst, she carries out her work through the lens of Intersectionality. Her broadcast journalism and writing has appeared in international media including the New York Times, Washington Post, Aljazeera, CNN and the BBC and she is a published author. Shaista is an experienced facilitator, media trainer and regular public speaker and media commentator. Shaista is training in Transactional Analysis.
Radomir Lazović is the head of the parliamentary group "Green – Left Font, Ne davimo Beograd" in the Serbian Parliament. He was born in 1980 in Belgrade. He has been active in the civil sector for more than 12 years, working at the Institute for Urban Policies, in the field of cultural policies; participation of citizens in making decisions about the development of the city; civil, political and social rights; democratic innovations and media. He participated in the launch of several initiatives (such as Ulična galerija, Inex fim, Movie theatres: Povratak otpisanih, Occupation of the Zvezda theatre) that advocate for innovative use of public spaces, fair management of resources, transformation of public services and a just, solidary and democratic society. From 2015 to 2017, he was the president of the board of directors of the Association of the Independent Cultural Scene of Serbia.
This event is part of the program of D.E.M.O. (Democracy, Elections, Mentorship, Organizing) by European Alternatives.
The "D.E.M.O." project aims to encourage and facilitate the active engagement of a wide network of European citizens through both capacity-building & citizens' engagement actions, in the context of the upcoming 2024 European Elections. It will provide 50 change-makers from at least 8 countries (Austria, Bulgaria, Czechia, Greece, Slovakia, Slovenia, Romania, Sweden and others) – with the necessary tools to re-imagine democracy in their local communities and to encourage democratic participation.
Learn more about the project here.