Online
April
4th 2020
Another Europe is Possible Event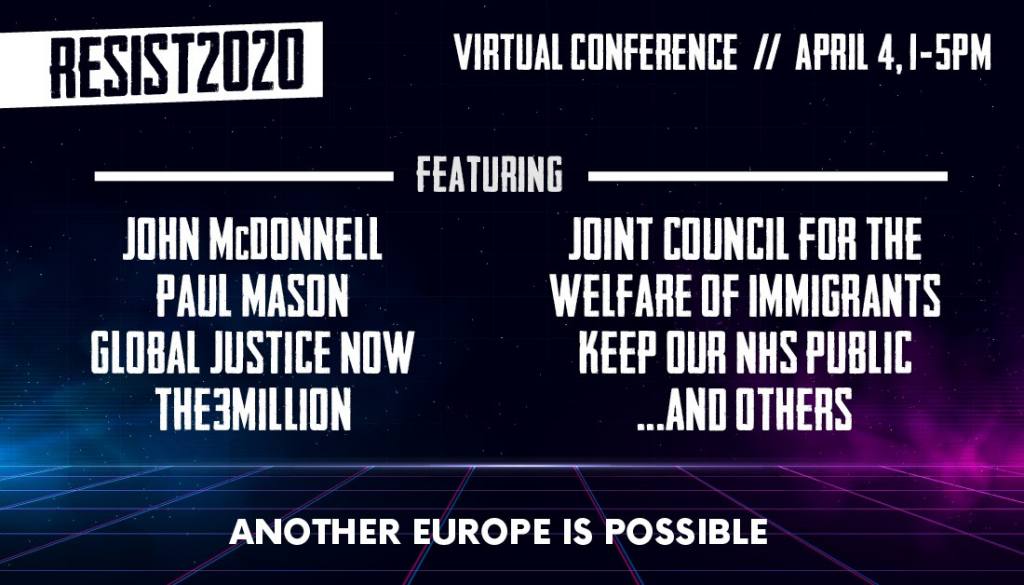 Another Europe is Possible Event
Online conference
April 4th at 14:00h CET at On Zoom - register to get the link
The virtual conference Resist2020 will be kicking off at 14h (CET). Joined by a range of excellent speakers – experts, politicians, campaigners, international guests – from the comfort of our homes we will be discussing some of the biggest battles facing the left in the era of Brexit and the Covid-19 crisis.
Hundreds of people have already registered to take part. Sign up to receive your Zoom link and tune in: https://zoom.us/webinar/register/WN_HbM9H-3HSPGYEPg5EwOeNw
14h-15:15 – Covid-19: How should the internationalist left respond?
The coronavirus pandemic is a human tragedy and a public health crisis, but it is also a crisis of capitalism and our entire political system. We will be bringing together experts and campaigners to discuss cross-border responses to the virus, and how we can fight back against anti-migrant politics.
Featuring:
John McDonnell MP
Paul Mason, journalist
Elly Schlein, Vice President of Emilia-Romagna and former MEP
Zoe Gardner, Joint Council for the Welfare of Immigrants
Ana Oppenheim, Another Europe is Possible
15:30-16:30 – Right to Stay: Defending EU nationals
European nationals were promised that their full rights would be protected after Brexit but the reality is different. The Settled Status scheme is a mess, and the coronavirus crisis means that many migrants who need help with their applications can't access support. How do we prevent hundreds of thousands becoming criminalised? Join this session to learn about our new campaign for the Right to Stay.
Featuring:
Alena Ivanova, Another Europe is Possible
Ilse Mogensen, the3million
Caitlin Boswell Jones, Joint Council for the Welfare of Immigrants
17h – 18h – Trade deals: Why do they matter and what can we do?
For the leaders of the Leave campaign, having 'full control' over trade policy was always an essential aspect of Brexit. The reason is clear: trade deals can help radically restructure economies, handing vast new powers to international corporations and eroding our rights and protections. Find out why trade deals are important, what's likely to be in a US trade deal – and what we can do to protect our rights and our NHS.
Featuring:
Nick Dearden, Global Justice Now
Gay Lee, Keep our NHS Public
Helmut Scholz, German MEP, Die Linke
Sabrina Huck, Another Europe is Possible