Brussels
March
19th 2020
EA Event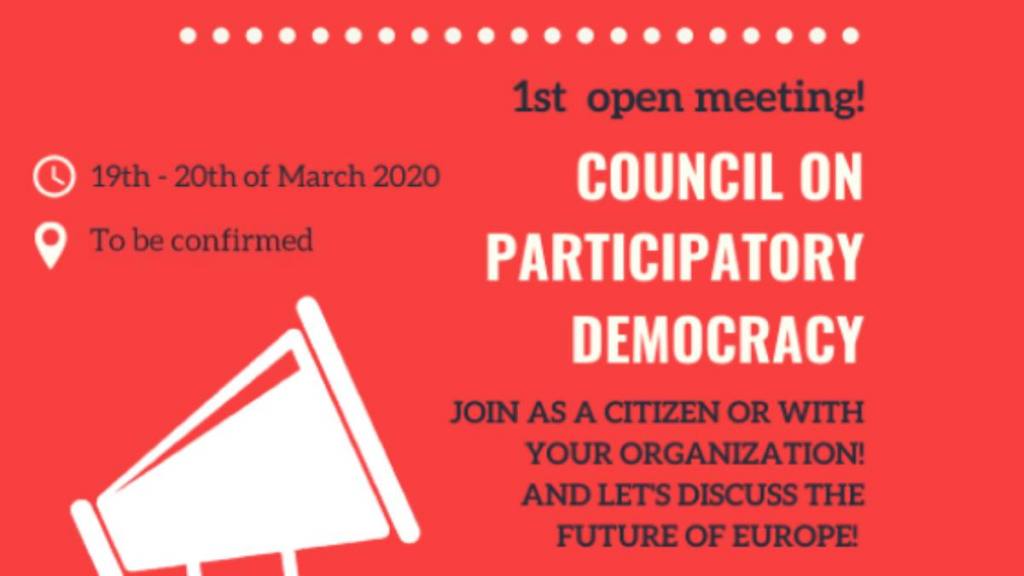 EA Event
March 19th at 14:00h
19-20 MARCH 2020 – Bruxelles
A call for European citizens and organisations that put at the center of their daily action the full adoption of democratic instruments and the view of a democratic and sustainable Europe.
Register here for joining online and offline and to take part in the preparation of the event https://eumans.typeform.com/to/LDKi0n
European citizens and civil society organisations call on the 19th and 20th of March for a first public meeting in Bruxelles to actively act on the definition of the mandate of the Conference on the Future of Europe and use the opportunity of the Conference to start a long-term shared process to ensure the strengthening and recognition of participatory democracy in the European Union. The 1st Council on Participatory Democracy is conceived as an open forum where individuals, organisations and networks can share their own objectives and ongoing proposals.
The meeting in Bruxelles is meant to be the kick-off of a long-term process. And together we can plan future appointments and actions to be carried on across the EU.
DRAFT FOR A COLLABORATIVE AGENDA FOR THE 19th and 20th OF MARCH
These are the three areas upon which the 1st Meeting of the Council on Participatory Democracy will be called on the 19th and 20th of March in Bruxelles.
THURSDAY 19th of MARCH – AFTERNOON
First Session: The mandate of the Conference on the future of Europe and the role of the citizens in shaping the Conference process
Second Session: Participatory Democracy: strengthening existing instruments and ensure democratic innovation
FRIDAY 20th of MARCH – MORNING
Third Session: Democratising the EU: from the reform of the Treaties to the reforms that can guarantee an EU more democratic, more sustainable and more free.