Online
February
18th 2021
CENTRALA Event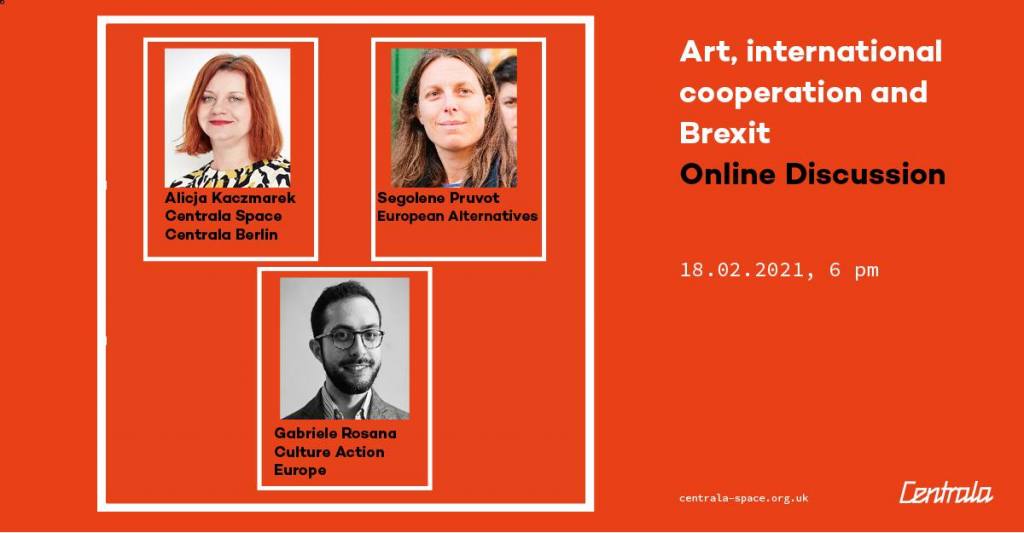 CENTRALA Event
February 18th at 19:00h
Welcome to the 3rd video from 'Art, international cooperation and Brexit' series, where we invite art practitioners from various fields to share and speculate about how Brexit can affect the art world, cultural mobility and international cultural projects.
The speakers for this talk are:
* Alicja Kaczmarek – director and founder of Centrala, Centrala Berlin. Alicja's dedication to community development, social action and social justice, is rooted in years of professional experience and involvement in promotion of equality and human rights. Alicja has a degree in Sociology from Mickiewicz University in Poznan, Poland and an MA in Social Policy from the University of Birmingham.
* Ségolène Pruvot is Director at European Alternatives, non-for profit organisation promoting Democracy, Equality and Culture beyond the Nation-State in Europe. Ségolène is an MSc graduate from Sciences-Po Paris and from the London School of Economics, where she specialised in Urban and Regional Planning and City Administration. Ségolène is now PhD candidate at the Univsersity Milano Bicocca in the URBEUR Programme – Urban and Local European Studies working on art practices, creativity and social justice in the city.
* Gabriele Rosana is a public policy enthusiast with experiences both in the institutions and in the not-for-profit environment. He is passionate about the EU political project and the role that culture has to play there. During the 8th legislative term, he has worked for the Chair/Coordinator for a major political group of the CULT Committee in the European Parliament, and rapporteur for Creative Europe, extensively following the EU policy-making in the fields of culture, education, media, and digital.