October
22nd 2020
The School of Resistance Event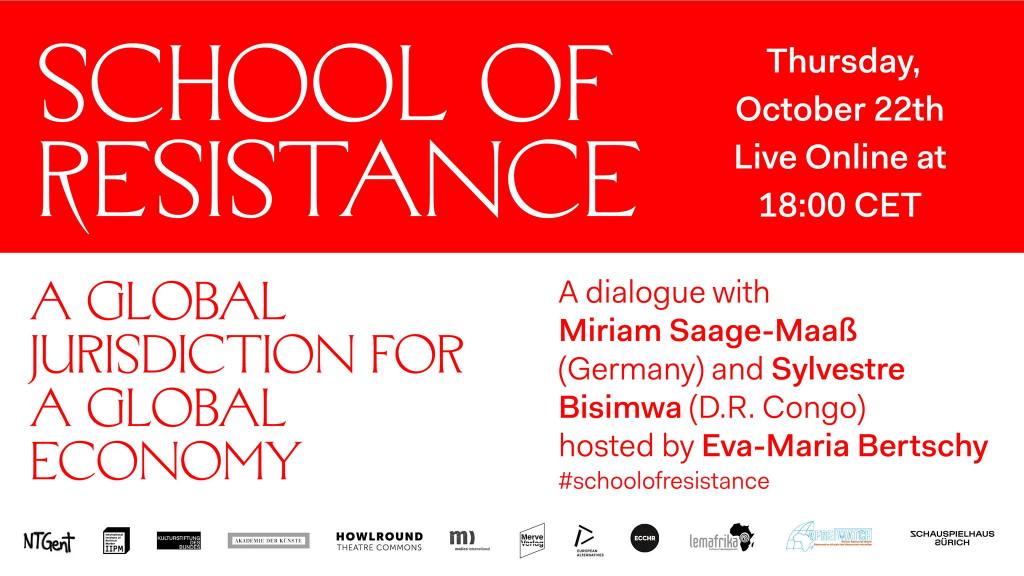 The School of Resistance Event
October 22nd at 18:00h
A dialogue with Miriam Saage-Maaß and Sylvestre Bisimwa.
The global economy is out of control. All over the world, multinational companies are violating human rights, disregarding labour rights, relocating people and destroying habitats without being held accountable. Often, states depend on corporate investments, or a few corrupt politicians earn enough from them to accept the damage to the population. With complicated and dynamic networks of subcontractors and the outsourcing of risky business, responsibility becomes diffuse. In addition, sophisticated strategies of tax avoidance and tax havens are used. The results are devastating. The overexploitation of the planet's resources for the production of cheap products is driving the collapse of the global ecosystem. Enourmous global economic inequalities fuel social conflicts and force people to flee. What can civil society, what can states do to hold globally operating companies accountable again? Do we need a global justice system to get the economy back under control?
The ninth episode of School of Resistance will host the lawyer and vice legal director of the European Center of Constitutional and Huma Rights (ECCHR) Miriam Saage-Maaß and the lawyer and chief investigator of "The Congo Tribunal" Sylvestre Bisimwa to speak about global justice und die "Kolwezi Hearings", investigating the activities of the Swiss company Glencore in the D.R. Congo.