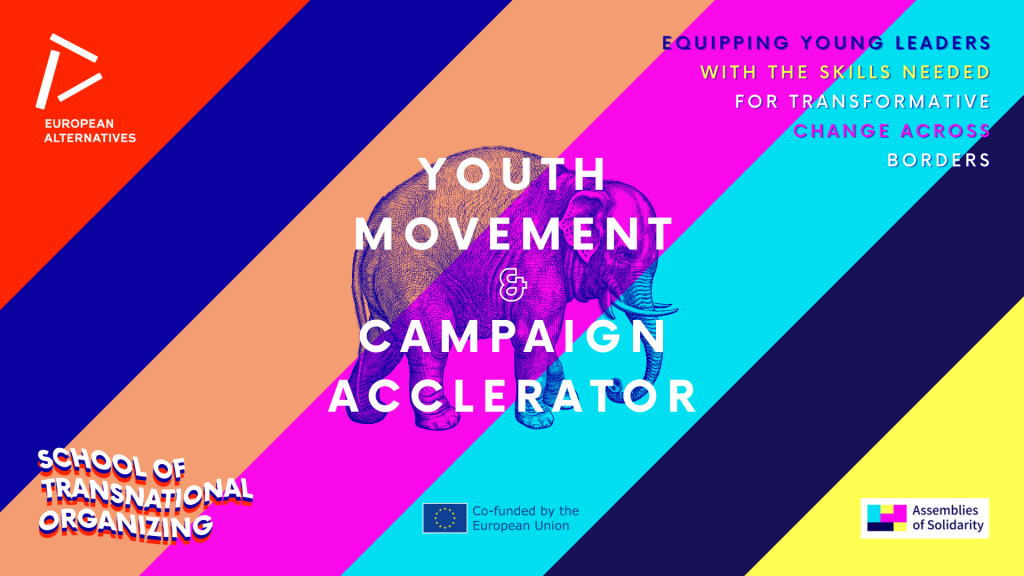 Time to put an end to the general anxiety and powerlessness, time to do something!
Do you know anyone that has been a selfless leader in their community? Have you seen anyone step up to solve inequality, combat unfair treatment, and help those in need – even at the smallest scale? Is there anyone you would like to see take a larger role in society?
If your answer to any of these questions is YES, send them to the YMCA. That's what it's for.
It is up to you to nominate someone around you that you know to have leadership potential.
What is the YMCA?
The YMCA (Youth Movement & Campaign Accelerator) is EA's newest youth education program. It aims to increase the engagement of young people and their communities in constructing European democracy by creating a network of over 60 young people, who will learn how to activate their local communities, articulating their issues and demands, and moving them to take collective action – by doing it.

The Accelerator is a 7-month program through which participants will gain skills and knowledge on building communities for political action, on community organizing – and opportunities to put this knowledge in practice. Concretely:

Online learning

Collective, interactive training sessions; quizzes, access to the resources & library offered by the School for Transnational Organising

Catching the media's eye, bringing people together behind an issue, using well tried and tested tools to formulate demands…

Offline learning

Workshops in November 2022 & March 2023 to deepen their knowledge, share experiences, build solidarity & engage with experienced trainers

Popular assemblies

Putting into practice things they learnt, participants in each country will organise two popular assemblies, to identify the most pressing issues and plan a campaign to make their voices heard to decision-makers

Movement management & community building

Building communities behind issues – including the human relations aspect: trust-building, conflict management, solidarity, overcoming fear & anxiety
EA will cover all travel & organising costs for selected participants.
Who can nominate someone to join the YMCA?
Anyone. Individuals, organisations. We will ask you about this person and why you think they would be a great campaigner.
Can I nominate myself?
No, but you can ask someone to nominate you 🙂 We'll review all applications based on the same criteria.
Who exactly can join the YMCA?
Anyone who has shown leadership qualities in their community, by working to solve a common problem and improve the lives of others
Must be between 18 and 30 years old
Live in one of the following countries: Poland, Hungary, Portugal, Spain, Italy, Germany, France, Romania
Speak & understand English
Available for all project activities, as per calendar in the brochure.
We especially encourage the participation of LGBTQ+ activists, people from minority communities in their country, people from outside the big city centers
What happens once I nominate someone?
We'll use the information you shared to make a first selection of candidates.  Those preselected candidates will be invited to share more about themselves and to join an interview. Based on all of this data, we'll inform successful candidates on 3rd October.
How to nominate someone
Submit the name & details of someone you want to nominate for this project here.
Deadlines
| | |
| --- | --- |
| Launch | 19th August |
| Deadline for nominations | 18th September |
| Rounds of interview & evaluation of candidates | September |
| Notification to successful/unsuccessful applicants | 3rd October |
Want to know more? 
Find out more on the project page, or in this brochure.
Any questions? 
Myriam has the answers! Send here an email here.