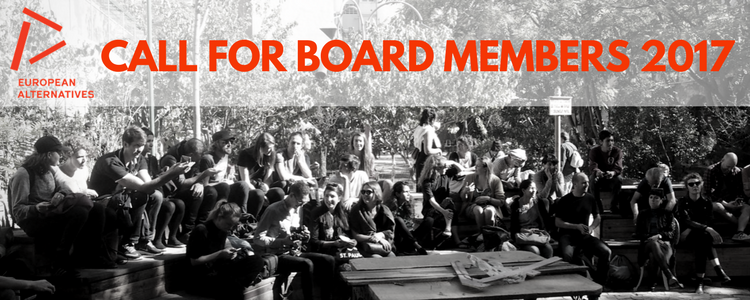 In European Alternatives we are opening two new seats on our transnational board and we are looking for dedicated candidates that will be elected by European Alternatives' members online in December. Deadline to apply is December 1st.
These two new board members will be elected for a two-year term (renewable). Last year Rasha Shabaan and Rui Tavares were elected for two years. Their term comes to an end in one year, at which point there will be new elections for two new board members.
The board of European Alternatives is composed of up to eight trustees and four observers. Four board members are directly elected by members of European Alternatives, and up to four are co-opted by the board to represent member organisations or bring additional capacities and skills to the organisation.
Catherine Fieschi, Srecko Horvat and Tony Venables are stepping down from the board of current trustees having completed their mandates.
The roles of the board members are:
To attend three to four weekend meetings each year, and to dedicate an hour or two each week to European Alternatives keeping themselves up to date on activities and contributing to ongoing work;
To guide the strategy of European Alternatives ensuring it continues to work towards more democracy, equality and culture beyond the nation state;
To establish and maintain key partnerships and alliances, including fundraising;
To speak or write on behalf of the organisation;
To guarantee the legal compliance of European Alternatives and responsible use of funds and the accountability and good governance of the organisation.
Electronic applications should be submitted no later than Friday, December 1st, at midnight (CET) by sending an e-mail to m.pairet@euroalter.com and include:
A short video presentation (maximum of 3 minutes, sent by WeTransfer or another file transfer service), stating your experience, addressing members of European Alternatives and indicating the areas in which you would particularly like to contribute to the work of the Board. You are welcome to also express your views on current positions of European Alternatives and on the work program for the coming year;
The endorsement, in writing, by 2 individual or organisational members of European Alternatives, directly addressed to m.pairet@euroalter.com;
A photo (separate .jpg file)
Incomplete applications will not be considered.
The presentation videos will be published on our website before and during the voting period, for members of European Alternatives to get to know the candidates and ask any questions before making their choice.
If you have questions about the board roles and the elections, please contact m.pairet@euroalter.com
We look forward to receiving your applications.