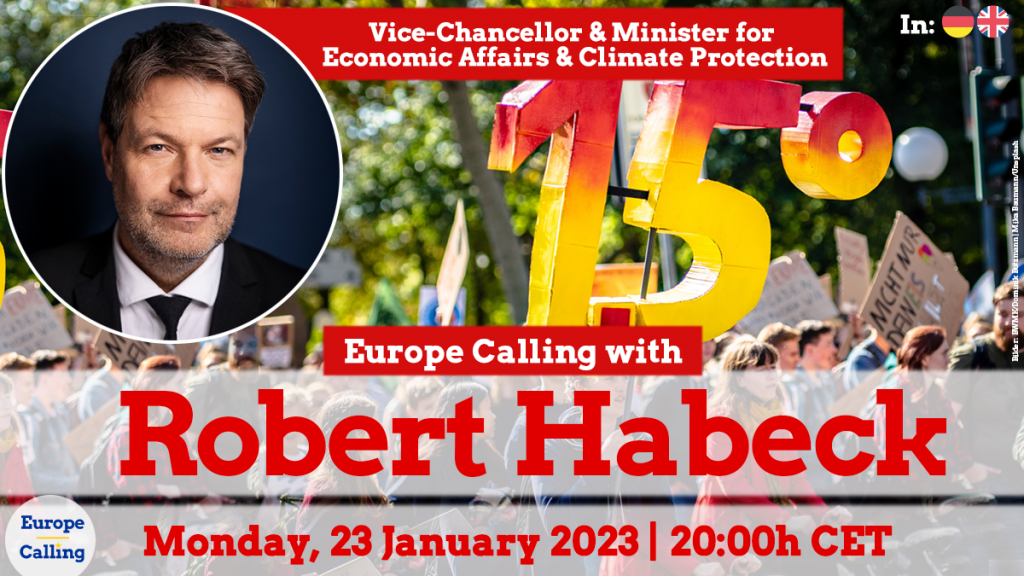 By Ulrike Liebert
Europe Calling is about to host one of the biggest public webinars in its history. Thousands of European citizens are expected to join an online event with German Vice Chancellor and Minister for Economy & Climate Protection Robert Halbeck tonight, to question him about Germany's record in tackling the climate crisis. The link to register for the webinar is available here.
I believe that we should experience this innovative webinar format in terms of highly promising stepping stones towards a digital European public sphere. In particular, I suggest that webinars following this exemplary method of EuropeCalling can pave the way for EU-Citizen Assemblies that are substantively designed from bottom-up and thereby provide links to mass publics, in several innovative respects:
1) EuropeCalling, by using the digital device SLIDO to systematically engage with organised civil society for setting up the Webinar
agenda for public debate. Once a topic of public interest is chosen, participants from three fields are invited:
a) one (or more) top political leaders with responsibility for the policy domain in question;
b) the most extensive range of relevant NGO's and think tanks are invited to provide pertinent questions for the political leader to answer and for public discussion;
c) the general public, that is interested lay citizens, to register for participation in the webinar.
2) for the webinar agenda, the registered participants are invited to vote – and that is to rank or prioritise via SLIDO – the manifold questions selected for discussion.
This is a smart method contributing towards citizen knowledge and capacity building by stimulating interest in information, reflection and participation in public deliberation.
3) The EuropeCalling webinar of January 23rd 20-22h (CET) can be qualified historic as it breaks the records of its more than hundred predecessors so far:
– In its typical bi-lingual mode (this time German and English) it focuses a socially particularly sensitive, highly politicised topic – the (allegedly insufficient) means for implementing the internationally agreed climate protection targets in Germany and beyond.
– The top political leader to provide account to the public is the German Green Minister for the Economy and Climate, Robert Habeck.
– Organised civil society responded to the call providing some 516 questions touching on key issues related to implementing the COP-15 targets and "European Green Deal" in Germany and beyond, including the local, regional and federal level (see SLIDO ranked questions: https://app.sli.do/event/vNpyLspAUf8Pwr36mW1MTW).
4) As a result of combining these three elements – highly sensitive topic, cooperation and inclusion of organised civil society for identifying substantive key issues for quality debate and, last but not least, hosting with Robert Habeck a popular, if not charismatic German top political leader – more than 7000 citizens have registered (23/1 noon). Moreover, many mass media outlets have registered to cover this webinar, including the printed press and a major German TV station. This breaks all records of EUrope wide webinar participation and media coverage to date.
5) Webinars of this format, designed as two hour online multilingual public discussions with political leaders that are informed by civil society should be valued as effective building blocks for citizens' empowerment. Without doubt, participants value them as assets for their political information, deliberation and engagement with political decision-makers. They are pivotal innovations for building a demoi-cratic European public sphere. They enhance the potential for success of the numerous randomly selected, socially representative citizens' panels across the EU member states, regions and cities that are dedicated to climate change and sustainable transition. They are formidable devices for translating the deliberations of such "mini publics" and of their policy recommendations for policy change into the general public at large.
Your comments and reactions are welcome, please write to ulrike.liebert@eui.eu.