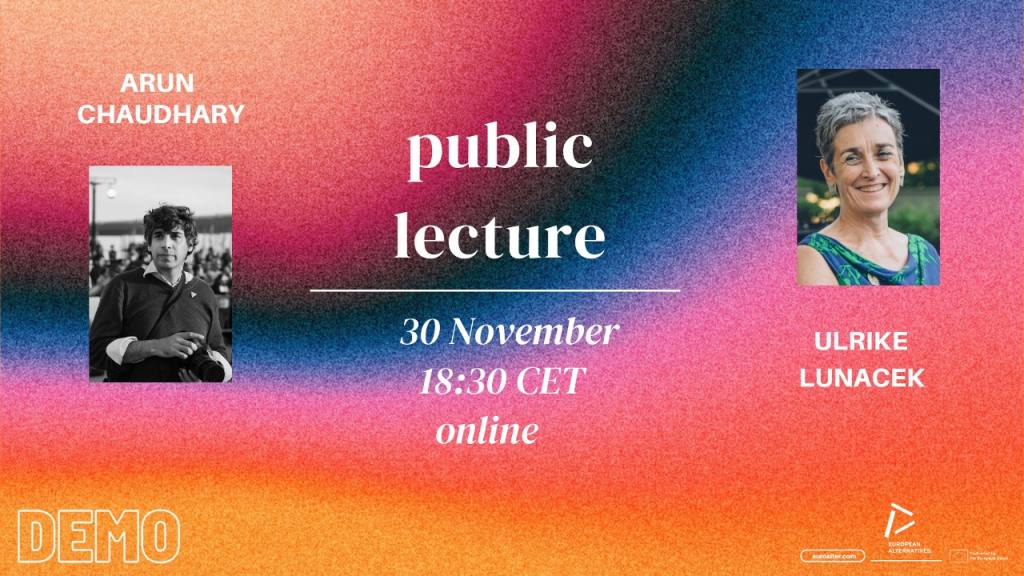 Come and join us for an online open discussion with Arun Chaudhary and Ulrike Lunacek in Zoom on the 30th of November at 18:30 CET!
Arun Chaudhary is going to explore the mechanics of emotional storytelling in politics, especially in bad information environments and Ulrike Lunacek is going to speak about HR/fundamental rights and environmental issues in foreign affairs/enlargement and how civil society support/activism/advocacy is needed for political aims to succeed.
Click HERE to join for the webinar! Passcode: 1234
Programme:
18:30 – 18:40 – Presentation of EA, D.E.M.O., the lecture and the participants
18:40 – 19:10 – Ulrike Lunacek – individual presentation
19:10 – 19:40 – Arun Chaudhary – individual presentation
19:40 – 20:20 – Discussion with both speakers
20:20 – onwards – time for Q & A from the audience
Ulrike Lunacek is author, lecturer and facilitator in Vienna, Austria. From 1995 to 2020 she was a federal and then European politician (Austrian Green Party), among other functions she was Member of the Austrian Nationalrat from 1999-2009, Co-Spokesperson of the European Green Party from 2006-2009, Member of the European Parliament from 2009- 2017, and Vice President of the European Parliament from 2014-2017. From January to May 2020 she was Secretary of State for Arts and Culture. As before entering politics in 1995 she is also now active in several NGOs.
For details:
https://en.wikipedia.org/wiki/Ulrike_Lunacek
https://www.parlament.gv.at/person/8244
Arun Chaudhary is a filmmaker working in politics. After being a key member of Barack Obama's New Media team during the 2008 campaign, he became the first Official White House Videographer, a position created for him at the beginning of the Obama administration. Chaudhary traveled extensively with the President, capturing public events and behind-the-scenes moments as well as producing and packaging presidential tapings for the Internet and broadcast television. He and his team set a new standard in documenting history, delivering crucial images to the public from the road in real-time. Arun is the creator and architect of "West Wing Week", the first-ever online video diary of the White House. You can read about Arun's time with Obama in this New York Times profile.
After departing from the White House, Chaudhary joined Revolution Messaging as a partner, where he went on to help craft Senator Bernie Sanders' game changing 2016 Presidential campaign as Creative Director. Arun's work received extensive media coverage and praise, including this Ozy profile, "The Creative Genius Behind Bernie's Revolution", and this New Yorker piece, "How the Sanders' Campaign got a Punk Sensibility".
In 2020, Arun moved to Berlin with his family to focus on counter-programming the far-right globally and to work more closely in international elections/campaigns.
This event is part of the program of D.E.M.O. (Democracy, Elections, Mentorship, Organizing) by European Alternatives.
The "D.E.M.O." project aims to encourage and facilitate the active engagement of a wide network of European citizens through both capacity-building & citizens' engagement actions, in the context of the upcoming 2024 European Elections. It will provide 50 change-makers from at least 8 countries (Austria, Bulgaria, Czechia, Greece, Slovakia, Slovenia, Romania, Sweden and others) – with the necessary tools to re-imagine democracy in their local communities and to encourage democratic participation.
Learn more about the project here.