June
22nd 2023
Power to the People Event
Power to the People Event
June 22nd at 20:00 at Zoom Webinar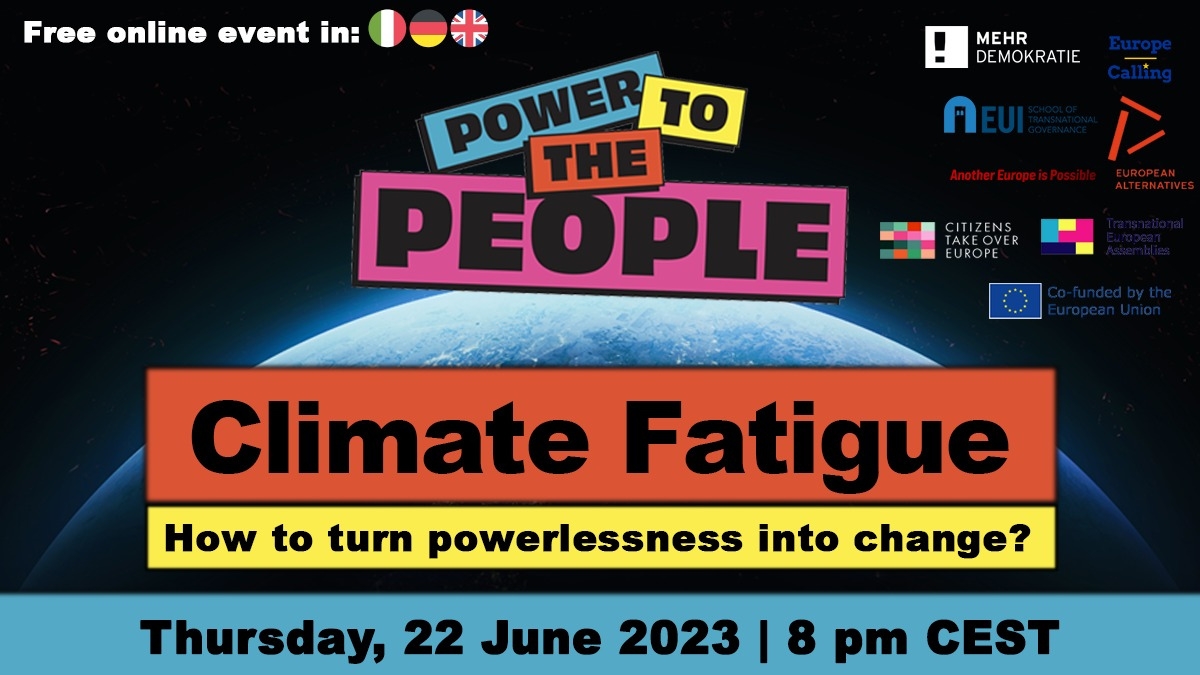 A webinar by "Power to the People".
Anxiety, desperation, denial … people react differently to the ever-growing odds of climate catastrophe. For decades, movements have debated strategies mobilizing those emotions politically: turning fatigue into activism and direct actions. Groups like Extinction Rebellion, Just Stop Oil and Letzte Generation have shown both the potential and limitations within the current climate activism toolkit. 
Indeed, the path to a just, forceful and inclusive climate action is full of obstacles for the many who feel powerless. Repression is fierce and growing, often fuelled by governments and defenders of the ending fossil fuel era alike. As climate urgency whistles ever more stridently to our ears, we must come together to imagine how to turn powerlessness into meaningful change.
Following this ambitious purpose, the Power to the People group organizes two multilingual virtual events on the 22nd and 29th of June 2023. Inviting citizens, activists and decision makers all over Europe. 
In the first event, we invite influential speakers from movements, science, politics and civil society to listen and learn about different perspectives to create a common base for the second event. 
In the second event, we want to create a democratic, transnational space for people to share their emotions and personal experiences, empower each other and grow together.
Specifically, those two events are:
22 June 2023: Panel of perspectives, setting the stage (with interpretation into French, English, German and Italian)
29 June 2023: Small-group breakout rooms, so everybody gets room to share, empower and grow
We invite everyone to join us!