Gdansk
March
18th 2023
European Alternatives, School of Transnational Organizing, Trust Without Borders, Transnational European Assemblies, EUMANS & ESC Event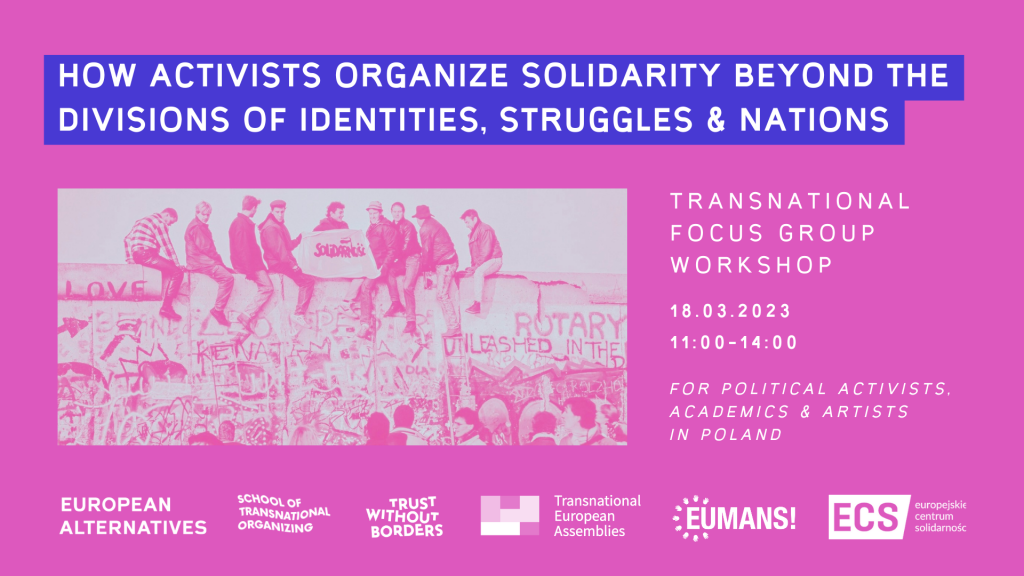 European Alternatives, School of Transnational Organizing, Trust Without Borders, Transnational European Assemblies, EUMANS & ESC Event
March 18th at 11:00-14:00 at European Solidarity Centre, Gdansk
HOW ACTIVISTS ORGANIZE SOLIDARITY BEYOND THE DIVISIONS OF IDENTITIES, STRUGGLES & BORDERS
Transnational Focus Group Workshop
18.03.2023, 11:00-14:00, European Solidarity Centre
Maximum 15 Participants
Register now until March 15
We live in a climate of political distrust. Right-wingers are grabbing power not only in Poland but all over the world, attacking women, queers, trans people, migrants, Muslims, refugees, and other marginalized groups. At the same time, all these people fighting on the frontlines for the rights of the most vulnerable and precarious are trying to hold up the flag of freedom, equality, and justice.
Trust Without Borders is a participatory action research project by European Alternatives and the School of Transnational Organizing (in cooperation with the Universities of Siegen, Warsaw and Siena) that brings together activists, academics and artists in Germany, Poland and Italy.
In a 3-hour focus group workshop in Gdansk, especially with feminist, queer and migrant organizers, we will co-research, co-learn and co-create how we can build trust and organize solidarity from below in our communities, cities and countries – beyond the differences and divisions of identities, struggles and nations.
Georg Blokus and Ophélie Masson, European Alternatives' experienced movement facilitators, will primarily use public narrative approaches and storytelling tools to create a safe/brave space for the exchange of personal experiences and stories, to analyze political mistrust and desolidarization on a structural and systemic level, and to share counter-strategies for organizing solidarity in more and more "uncivil societies" across Europe.
All interested activists, academics, and artists who are interested in an open and deep exchange are warmly invited to participate. The workshop will be held in English. The maximum number of participants is 15.
The workshop is part of the EUMANS Citizens Summit on "Democracy, Ecology and Liberty Beyond Borders. For a Pan-European Government Plan", which will be held at ESC in Gdansk, from March 17-19, 2023. Here you can find more information about the rest of the programme and also the registration for other events.
HOSTED BY
European Alternatives, School of Transnational Organizing, Trust Without Borders, Transnational European Assemblies, EUMANS & ESC
WITH THE SUPPORT OF
Bundesministerium für Bildung &a Forschung (BMBF) & European Commission
ABOUT EUROPEAN ALTERNATIVES & THE SCHOOL OF TRANSNATIONAL ORGANIZING
European Alternatives is a citizen-powered transnational grassroots organization with offices in Paris, Palermo, and Berlin – imagining, demanding, and enacting democracy, equality, and culture beyond the nation state. Our »School of Transnational Organizing« is a grassroots school where everyday people, social movement builders, trade union organizers, migrant workers, climate justice activists, political artists as well as marginalized communities meet to learn the tools and skills to master the lost art of organizing solidarity and together shape the landscape of what we think is possible.
BE PART OF OUR PROGRESSIVE COMMUNITY OF TRANSNATIONALISTS
Are you a progressive activist, academic, or artist, part of a grassroots initiative, civil society organisation, or social movement? United across borders and struggles, we as citizens and workers in our communities and cities organize for a Europe of solidarity and justice.